ON/OFF switch wire.

1 year warranty.
These unique LED bulbs are dual purpse; an LED headlight bulb and a color changing devil eye all in one! Whether you're cruising around town before the sun sets or sitting at a local car meet, these bulbs will give your headlights an awesome devil eye effect with the help of our industry leading XKchrome Smartphone Controller (see features below). When that sun goes down and your stock halogen bulbs leave a lot to be desired, we've got you covered! More light? Fresh look? What's not to love!

Want your headlights to shine brighter and further but your current bulbs just aren't cutting it? Want to get rid of that old yellow light tint and give your ride an updated look with a cool white light beam? Look no further! Built with high power premium quality COB LEDs, these LED headlight bulbs will cast a precise light beam that will give you increased visibility, a wider viewing angle, and a much longer lifetime over conventional halogen bulbs.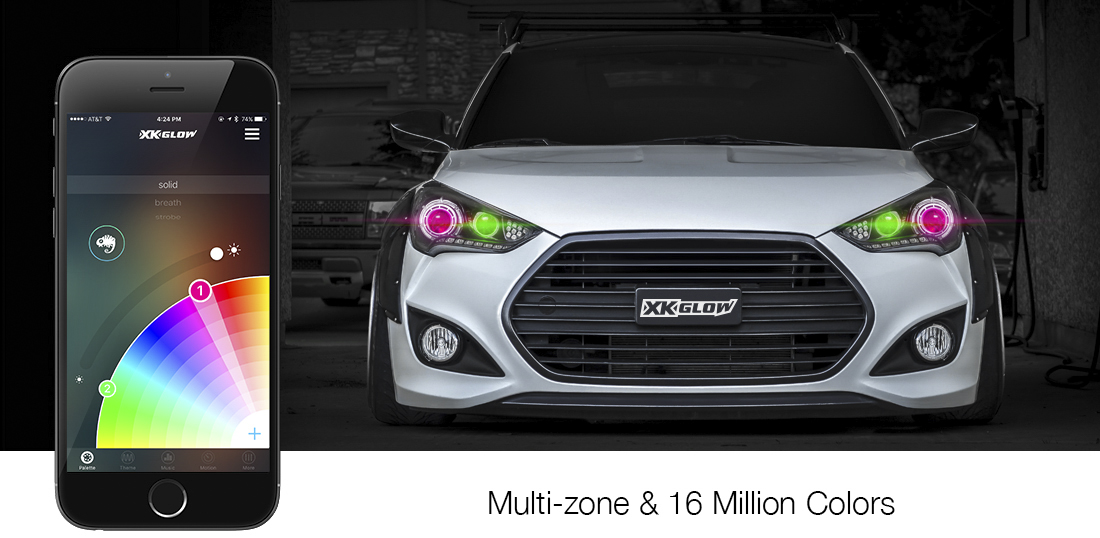 Built with 16 bit gamma correction, XKchrome provides over 16 million vibrant colors, allowing the user to choose any color with a single tap. Each controller has two zones that can simultaneously run different colors and patterns, allowing more room for creativity and uniqueness compared to other LED lights. Up to 6 controllers (12 zones) can be connected at the same time.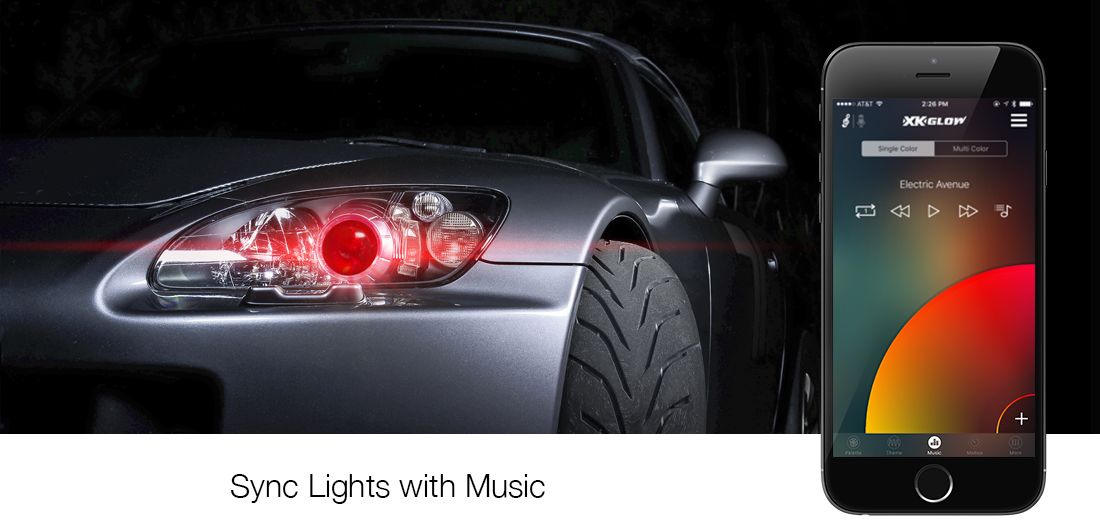 Music is the essence of life; and we make it the essence of light. XKchrome's Music Sync feature enables lights to dance with the rhythm of any song in your phone, or with any sound picked up by the microphone. To maximize visual effect, our adaptive algorithm dynamically adjusts the volume sensitivity. No matter if it's a country music or a hard rock, just lay back and enjoy the full spectrum you defined for your favorite song.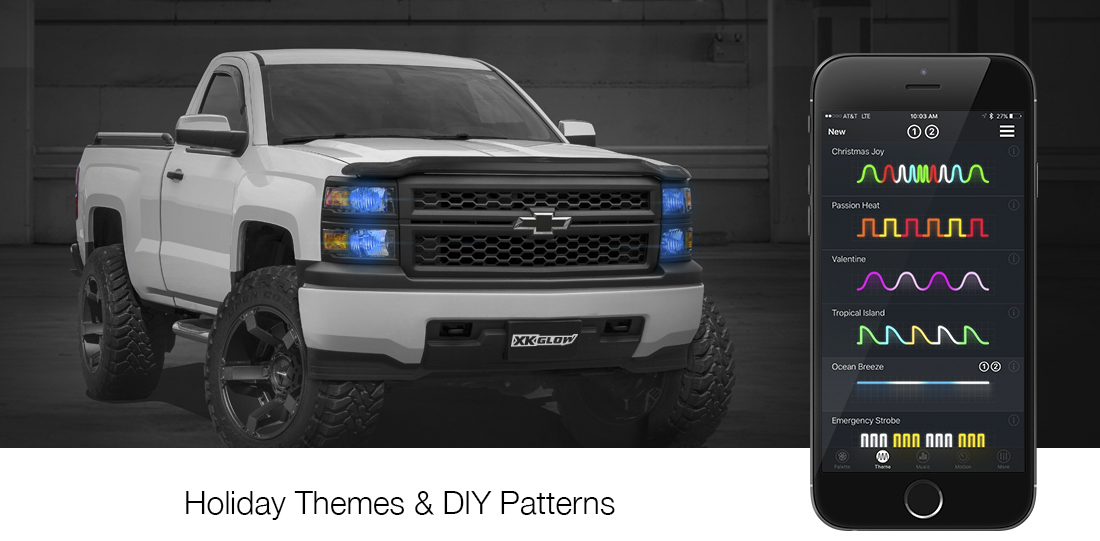 Our color designer hand-picked over 15 themes for special occasions throughout the year. It even comes with an "emergency strobe" in case you parked at the side of the road in the dark. In addition, users can fully customize their own themes with various pattern, speed, and up to 10 color combinations.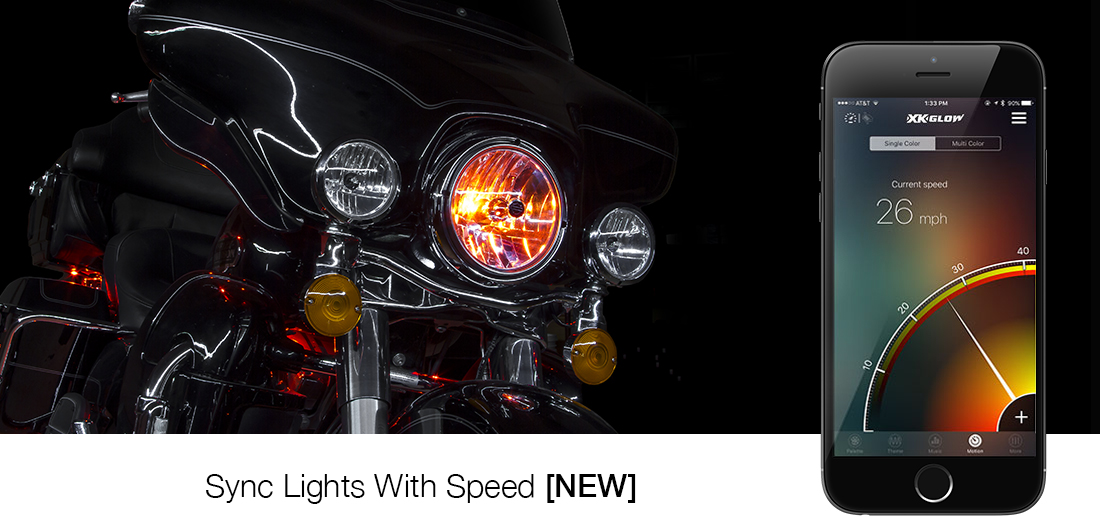 At XKGLOW, we never stop pushing the boundaries. With the latest app update, XKchrome can seamlessly transit lights from one color to another and tune the light brighter as you move faster, turning your vehicle into a beast that breaths light! All these new features updates are free so you can get the most out of XKchrome.

With XKchrome's realtime "chameleon" feature, you can paint your headlights with any color you see. Whether it's a bright shirt or a stunning paint job, just point your phone's camera to it. XKchrome instantly turns your headlights to the very same eye-catching color in real time! Prepare to be AWED!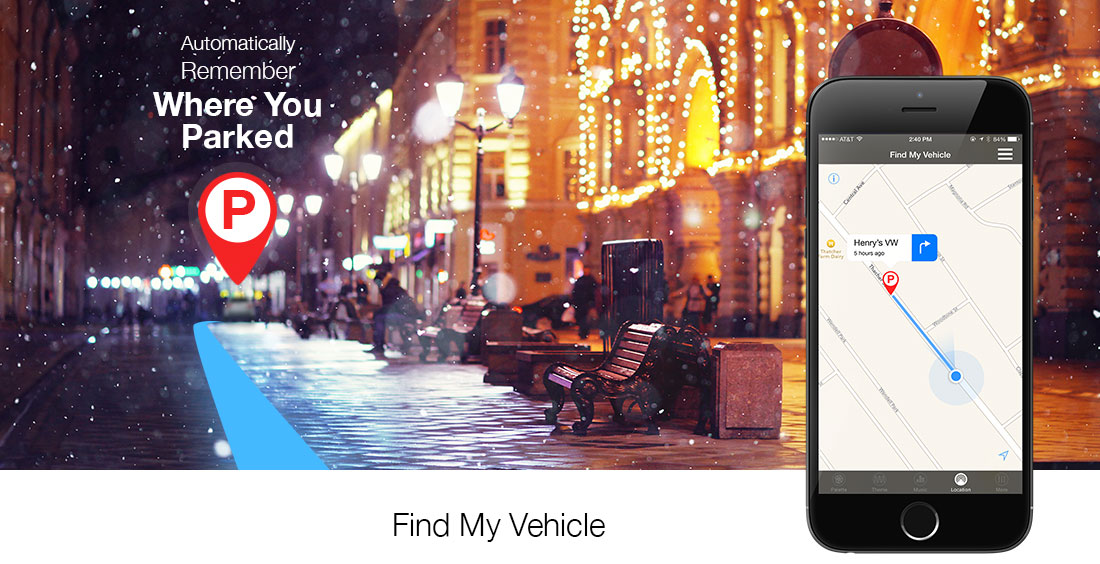 XKchrome can do more than lighting. Thanks to its built-in Bluetooth Smart Beacon, XKchrome helps locate your parked vehicle. When you walk away after parking, XKchrome app will automatically pin down your location. So that you can easily look it up in the app when you need to find the way back. Once you get close enough, you can also turn on the lights to single your vehicle out from the endless parking row.
iOS device compatibility: iPhone 4S or higher; iPad 3 or higher; iPad Mini or higher, iPod Touch 5th gen or higher. 

Android device compatibility: Must be equipped with Bluetooth 4.0 (BLE) and Android 4.4 or higher version system. Check if your phone is BLE equipped >>

Controller Max load: 3A per zone. (Each controller has 2 zones)
Input voltage: 9-15V DC. 

Brake sensor input voltage: 12V. 

Reversed polarity protection: Yes. 

Transient voltage suppression: Yes. 

Controller Dimension: 4" x 2.33 x 0.73" (100 x 60 x 19cm) 

Applications: Check owner's manual for bulb size.
White COB chip: 30W

RGB chip: 3W

Lumen rating: 2750lm

Input voltage: 9-16V DC

Color temperature: 6000K
Aluminum: 6063

Waterproof: IP67

Plug types: H4 H7 H8 H10 H11 H13 H16 HB2 HB3 HB4 HB5 9004 9005 9006 9007 9011 9012

May not fit with dust cover*
Turn Signal Upgrade Module Features:
Turn signal: When the yellow sensor wire is activated by turn signal, the lights connected to the module will blink with turn signals, with or without the accent lighting being turned on.
White light: when the white sensor wire is activated, the connected lights will change to solid white. The white wire can be attached to various signal sources such as headlight, reverse light, or door courtesy light for different purposes.
60w power amplifier: Even if the yellow and white wires are not used or activated, the module can serve as power amplifier. The lights will get main power from the red & black wires of the module and only draw a small amount of power from XKchrome controller as control signal, which enables larger scale installation that exceeds the 72w output of XKchrome controller.
*** Select "Add 2 turn signal modules" above ADD TO CART button to add to order.